Rope Ladder
ID
2566
Stackable
Yes (64)
Type
Unknown
Craftable
Yes
Added By
OpenBlocks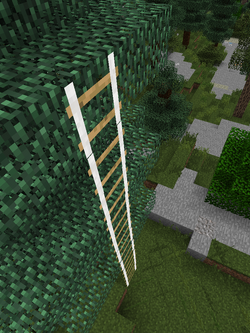 Rope Ladders are a one time use block. When placed on the side of a block, the ladder will extend until it hits another block, and then stop. The ladder can then be climbed like a normal ladder. If any part of the Rope Ladder is broken, the part below it will break as well, and no items will be dropped from it.
The rope ladder blocks move in place, making it seem like the ladder is swinging back and forth.
If you want to make a helicopter using the Archimedes' Ships mod, this block is perfect for you.